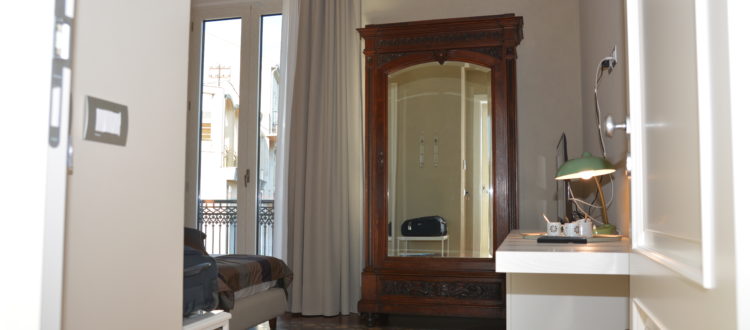 Etna mare N ° 2. Double room for single use
Charging station for smartphones and tablets
Color TV with digital terrestrial
double room for single use.
An elegant combination of modern and ancient elements, in perfect harmony with the style of the villa, combined with a view, usable from the balcony, which reaches both the profile of Etna and the lines of the sea, it's still, the floor completely recovered from the original and the bathroom with emotional lights: such are the peculiarities of this pretty double or twin room, able to envelop and involve its guests with its delightful atmosphere.
All rooms are air conditioned and with bathroom.
The bathrooms have hot water, shower (with emotional lights), and hairdryer.
On request we can provide you with a cot for babies, a stroller and a baby bus.
Regulation.
Upon arrival, each guest must deliver a valid identity document for the registrations required by current regulations. Failure to comply with this obligation constitutes a violation of the provisions of the Criminal Code and authorizes us to request immediate abandonment of the house without returning the deposit. The data you provide will be treated in full compliance with the laws in force and in any case according to principles of correctness, lawfulness and absolute protection of your privacy and your rights.
Smoking is prohibited in all rooms.

The rooms have all been furnished with high quality furniture, Any damage to the furniture, to furnishings or equipment, once responsibility has been ascertained, must be compensated by the customer upon departure.

The loss of the keys given in delivery will result in the payment of € 100,00 as compensation for changing locks;
Please, respecting the environment, please check that:
le luci, the TV and air conditioner as well as the bathroom taps are properly closed, before leaving the room. Do not throw material in the toilet that could clog it (diapers, pads or other) but use the special basket.
It is not allowed to change the arrangement of the furniture inside the rooms.

Check in: usually from hours 16,00, different times (quite flexible) must be agreed at the time of booking. Going to the facility without having warned about arrival time can cause delays. This problem cannot be a reason for complaints or claims for reimbursement.
Check out: strictly within hours 10,00. Different times must necessarily be agreed upon arrival.