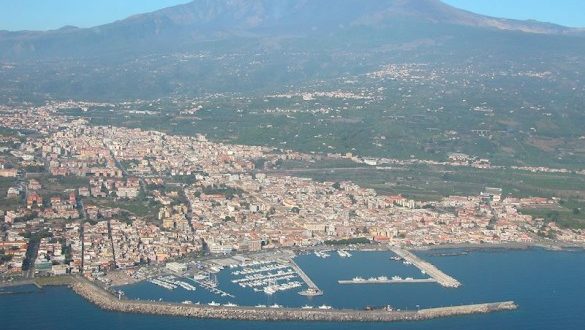 United during the fascist period under the name of 'Ionia', the municipalities of Giarre and Riposto form an urban pole that extends from the Ionian to the foot of Mount Etna. The centrality of their position in relation to the places of greatest interest around and the proximity and ease of access to means of transport – road, rail and air – make it a point of reference and a fundamental junction.
Giarre and Riposto are not just a place of passage or rest; they are also two wonderful and picturesque villages of the Sicilian Ionian coast: Giarre, situated on the slopes of Mount Etna, presents an elegant architecture with several monuments and buildings in Art Nouveau style of the early 1900s and in Neoclassical style especially in the city center, beyond to numerous characteristic museums such as: The Crib Museum, the Museum of the Uses and Costumes of the Etna Nations and the Sicilian Puppet Theater-Museum. Its main streets are paved with lava stone blocks of 15cm in size 40 × 40 – an example now very rare to find.
The 'coastal' Riposto, whose name – due to its origins – literally means 'closet', is instead a maritime country among the most fascinating of the Ionian coast, boasting the enviable scenery of Etna in the background. Along the coast stands the 'Port of Etna', a modern and equipped tourist-commercial port among the largest in Eastern Sicily.